New Zealand Bio-Cosmo-Physics Genius Chris King
Posted Jul 06, 2007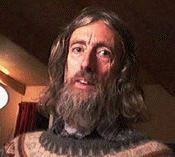 ...why is New Zealand reniassance man Chris King so unknown? We don't know, but he's probably got a detailed answer that makes perfect sense.
Chris King is a singular mind --- he's interested in the mechanics of absolutely everything. Every process in every system, at every level of scale. And he's found some truly remarkable patterns out there. His papers are dense and fast-paced. (Personally, when I read my first Chris King article, it took me about three months to get enough background knowledge to understand it.) This is not meant to be some quick brain food, but rather a permanent tribute to what we consider an important mind.
For the more educated reader, you can dive right into his latest magnum opus statement: Cosmic Symmetry-Breaking, Bifurcation, Fractality and Biogenesis, which is a guided tour of the entire Universe and assumes working background knowledge in nearly every scientific discipline. There is also a full-color, expanded edition available here.
One primary reason that Chris King is fairly obscure: there is no easy way into his work.
There is no popular summary in existence at this point. His papers are always complex, but if you're going to start anywhere, start with Quantum Mechanics, Chaos and the Conscious Brain. For a printable and compulsively readable version of the same theories, check out Fractal Neurodynamics and Quantum Chaos. (I still carry a copy of that essay in my laptop case.)
For a specific look at his work on neurology, and the "Hard Problem of Consciousness", we recommend Fractal and Chaotic Dynamics in Nervous Systems Chris King is also (quite sensibly) very concerned about the future of life on this planet --- especially the future of human life. He has created a sprawling encyclopedia of Earth Life, which he calls The Genesis of Eden. We especially recommend the sections on Sociobiology, Biocosmology, Evolution, and a summary of the current biocrisis that all of Earth is facing. (We're gonna go out on a limb here: mass extinctions might be a Very Bad Thing.)
Still Confused?
Here at Skilluminati Research, we don't assume everyone reads as much as we do. (In fact, we're grateful for your sloth, since that's precisely what makes you so easy to control.) Here's a list of key concepts, all linked to good introductions to that specific topic.
Hard Problem of Consciousness: How does the brain generate consciousness? This also leads to several other, equally important questions: Is consciousness a phenomenon limited to the brain? Is all matter conscious? What role does consciousness play in the growth of the Universe? ....that sorta thing.


Fractality: Self-similarity. There are few more visually beautiful introductions to fractals than Miqel Dot Com's math images gallery: start here.


Isomorphism: Similar patterns and forms at different levels of scale. For instance, electrons orbiting the nucleus of an atom bear a striking resemblance to planets orbiting a sun.

In China, this has been studied for thousands of years and is known as Li: Patterns in Nature. <---the previous link is to order the book from Amazon. We recently had this book "borrowed" from the library before we could scan it to a .pdf. When it is returned, we'll post it here. In the meantime, this book and all others in the Series, especially Harmonograph and The Little Book of Coincidence, get the highest possible reccomendation from the BIPT.


Symmetry breaking: modeling the growth of life --- the emergence of something new --- mathematically. This principle applies on the cosmic level --- as weak and strong nuclear forces separated in the early Universe --- and it applies on the genetic level, where cells grow into humans.


Neurogenesis: The growth of the brain. There are of course many more terms to define, but we will leave you with one of the more amazing quotes to be found in King's written work:

"The raw numbers game of neurogenesis [growth of the brain from embryo to adult human] suggest attractor dynamics may form an essential bridge between central nervous system genotype and phenotype. The 5 x 10^4 genes governing central nervous system development, around 60% of human genes, cannot informationally specify the connections for 10^11 neurons and 10^15 synapses."

(In other words, the Human Genome Project's claims of "DNA determinism" ---- "everything is in the genes" ---- is radically wrong, not just "popular science" but flat-out dumb. Our genes are clearly working in concert with our environment at every single iteration of human development. Any arguments about "Nature vs. Nurture" might as well be about how many angels are in heaven, wether or not the Earth is flat, or the benefits of bloodletting.)
Filed in: Future Tech