1980 Jaques Vallee Interview with Omni Magazine
Posted Jul 06, 2007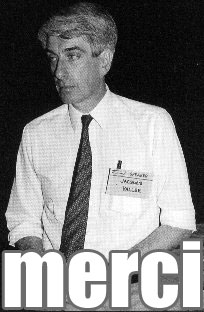 A BIG THANK YOU to Pirx for providing us with this scan. If you're unfamiliar with Jacques Vallee, start right here. If you are familiar with Vallee, you don't need any further introduction. What follows is some choice excerpts from the interview, concluded by a link to the original scan in .pdf format. Enjoy.
Omni: Why do you think people are bored?
Vallee: While the public is becoming increasingly interested in the subject, it is bored with the obsolete question of wether UFOs are real or not. It's a little bit like asking if Jesus Christ existed or not. You'll find ten scholars on any campus who will "prove" to you that Jesus never existed, and you will find ten more who will "prove" that he did, all using the same documents. It's an interesting question for those few scholars, but it's not an interesting question for the rest of us, because -- historically, socially, culturally and so on -- Christianity has been a fact of life for centuries.
In a particular society, if enough people believe in something, then that something exists. To paraphrase one of the founders of modern sociology, "If men believe something to be real, then it is real in it's consequences." The expectation is there. That's what I've called conditioning. Wether the conditioning comes from an outside source or wether it comes from Earth, from the old human culture, or even from the collective unconscious as Jung suggested -- wherever it comes from, the expectation is there. We expect social changes to come from this belief, maybe even historical changes. That's the new perspective I've tried to explore in this book [Messengers of Deception], through a total departure from the methods I've used before.
Omni: Didn't it subsequently irritate you when you heard so many UFO supporters arguing about the numerous cover-ups that were going on? There's always a UFO fan who goes on about how the Air Force has secret files.
Vallee: That was characteristic of UFO believers in the United States, especially in the Fifties, when a group called National Investigation Committe on Aerial Phenomena (NICAP) and its leader, Major Donald E. Keyhoe, were trying to get congressional hearings to expose the "coverup." It seemed to me there were much better things to do, such as study the phenomena itself.
When I was compiling the catalog of landings that is the appendix to my book Passport to Magonia, I found that I had much better access to the files of the air force than to those of the UFO groups. Those groups were allegedly set up by citizens anxious to reveal the truth, but they have never published their data, for purely egotistical reasons. If you go through my catalog, you'll find more cases of UFO landings from the Air Force than you will from any one of the amateur UFO groups. So that says something.
Omni: With all these possibilities in mind, what are your plans for the future?
Vallee: In a sense, I'm just beginning. There is a tremendous sense of excitement about this. I finance my own research now, having left all the groups I ever belonged to. I find I can cover much more ground with my own resources and my spare time. I now work with a very small group of scientists. I try to control the information very critically. And I try to work only on cases that have not been publicized, have not been reported to newspapers, and have not been looked at by the UFO groups.
DOWNLOAD JACQUES VALLEE'S OMNI INTERVIEW
EXTRACTING WATER FROM AIR: A PATENT AND A PROJECT
?People have been trying to figure out how to do this for years, and we just came out of left field in response to Darpa," said Abe Sher, chief executive officer of Aqua Sciences. ?The atmosphere is a river full of water, even in the desert. It won't work absolutely everywhere, but it works virtually everywhere."
Sher said he is ?not at liberty" to disclose details of the government contracts, except that Aqua Sciences won two highly competitive bids with ?some very sophisticated companies."
He also declined to comment on how the technology actually works.
?This is our secret sauce," Sher said. ?Like Kentucky Fried Chicken, it tastes good, but we won't tell you what's in it."
Ever since we first read about Abe Sher and Aqua Sciences, it's been a priority mission to reverse-engineer the miraculous "Water from Air" machine. Aqua Sciences made the news for their "mobile freshwater generation systems," which they're selling to FEMA, DARPA, and the US Military. After all, on a planet where over a billion people are constantly ill because they can't access safe, drinkable water -- selling something like this to the highest bidder is just unforgivable.
But we're not down with the "bitch and whine" activist crowd -- Abe Sher will do what Abe Sher will do. And what we will do, is put Abe Sher outta business. Towards that end, we're going to "open source" our project to some extent, starting with sharing a patent we tracked down. Bizarrely, the second half of the diagrams on this patent are hand-drawn, horribly and illegibly. This is most odd, because it indicates those images were substituted after the patent was accepted and filed -- it's highly unlikely that the US Patent Office would have accepted something so amateur to begin with. Strange happenings afoot.
DOWNLOAD PATENT 7,053,934 -- "Device for Collecting Water from Air"
Filed in: Future Tech